One of the world's leading providers of navigation products and software solutions, NAVIGON INC. has announced the launch of its new ultra-stylish PND (personal navigation device), named as NAVIGON 7300T, which the company claims as the first GPS device on the market to include Rand McNally Scenic Routes content, providing users a new level of 3D visualization experience thanks to Panorama View 3D and Landmark View 3D features.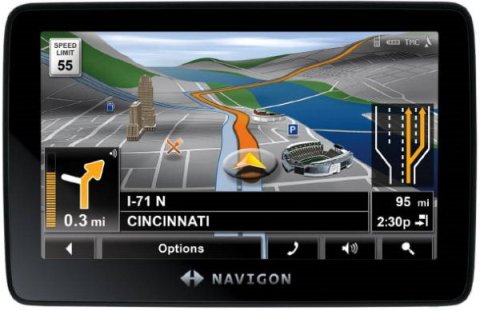 According to NAVIGON, "Based on Rand McNally's Best of the Road series, the NAVIGON 7300T includes over 250 routes such as Weekend Getaways, Scenic Tours and Regional Trips. These routes show the most beautiful vistas and breathtaking landscapes the U.S. and Canada have to offer. Scenic routes are a perfect option for a unique vacation to enjoy with the whole family or as an alternative to normal highway driving."
Impressive Features Of NAVIGON 7300T:
New intelligent NAVIGON MyRoutes provides up to 3 route choices with distance and ETA calculated for all entered destinations, factoring in speed limits, construction and traffic
Free Real-Time Spoken Traffic Updates
All-new Voice Address Entry and Control allows the users to control the device hands-free by speaking a wide variety of commands
Highly praised Panorama View 3D and Landmark View 3D give users a real 3D experience showing surrounding landscapes as well as important landmarks
Clickable POIs guides users to destinations shown on the map with one click
Reality View Pro and Lane Assistant Pro
Advanced Text-to-speech technology helps users keep their eyes on the road by providing spoken driving directions and street names
Rand McNally Scenic Routes
Fast Destination Entry
Bluetooth Hands-Free
Zagat Ratings and Reviews
NAVIGON's exclusive Exit Guide
DirectHelp provides instant access to directions and phone numbers to nearby emergency service providers
Speed Assistant
Multi-Destination Trip Planning
Automatic Standby Feature
Favorites as POI
Coordinate Input
Automatic Day/Night Mode
"NAVIGON continues its pioneering tradition of driving more useful and innovative features into every new product we introduce," said Michael Roach, NAVIGON's president for the Americas. "The 7300T is the pinnacle of NAVIGON's vision, combining our uncompromised design focus with a set of unmatched, relevant, next-generation features. The 7300T is truly a stand-out, delivering an experience that adds a greater level of peace of mind, productivity, and adventure than anything else on the market today."
The new NAVIGON 7300T GPS navigation system with 4.3-inch touchscreen display is expected to be available in Q2 2009 for MSRP of $399.99.