The world leader in mobility, Nokia has announced its new touchscreen-enabled mobile phone for music that brings innovative new features to the mass market, named as Nokia 5800 XpressMusic, aiming to deliver great music experience.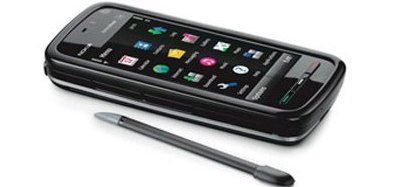 According to Nokia, the 5800 XpressMusic will be among the first mobile devices to support Nokia's groundbreaking service – Comes With Music.
"With the Nokia 5800 XpressMusic, we set out to connect people through the one thing we all feel a universal connection to – music," said Jo Harlow, Vice President, Nokia. "The way in which people enjoy music is different around the world. With that in mind, the Nokia 5800 XpressMusic gives people the freedom to experience music they love in the way they prefer."
Highlights Of Nokia 5800 XpressMusic:
3.2-inch touchscreen display with tactile feedback (640 x 360 pixels ; 16 million colors)
3.2 megapixel camera with Carl Zeiss lens, LED flash and video recording capability
Dedicated Media Bar touch key for access to music, gallery, share on-line, Video Center and web browser
Stylus, plectrum and finger touch support for text input and user interface control (alphanumeric keypad, full and mini QWERTY keyboard, handwriting recognition
Integrated GPS for pedestrian and car navigation
Integrated stereo speakers with surround sound (crystal clear hi-fi sound quality with dedicated audio chip)
Bluetooth 2.0 with A2DP
8GB internal memory
"As Nokia's first mass-market device with a touch screen, the Nokia 5800 XpressMusic turns a 'user interface' into a 'human interface' by truly putting people first. For example, we've introduced the Nokia Contacts Bar, which is like a digital RSS feed on your life," added by Harlow. "By adding the benefits of touch screen technology to S60, the world's leading smartphone interface, Nokia is taking the familiar and giving it a human touch. We have used touch technology where it really adds value such as the Contacts Bar, Media Bar and clever shortcuts from the homescreen to menu items such as calendar, profiles and clock."
The new Nokia 5800 XpressMusic cellphone which supports all main digital music formats is expected to be available worldwide starting Q4 2008 for about $400.