The world leader in mobility, Nokia has recently offficial announced the new Nokia N810 Internet Tablet with new phase in portable internet communication, an upgraded 400MHz processor model to the N800. This pocket-sized device that able to connect to nearest Wi-Fi hotspots and bluetooth mobile devices for multi connectivity options is powered by maemo Linux based OS2008.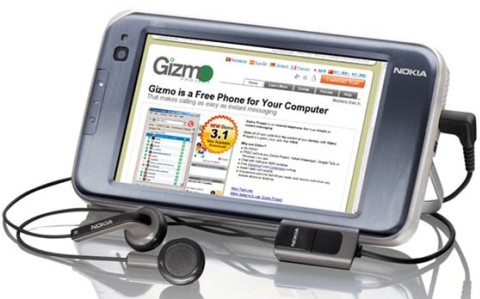 Furthermore, the latest N810 Internet Tablet also features an 4.13 inch touchscreen display with 800×480 pixel resolution, 2GB internal memory storage, a full slide-out QWERTY keyboard, an integrated frontal camera, Wi-Fi, Bluetooth and a built-in GPS receiver which allows consumers to pinpoint their position using the Wayfinder's satellite navigation software and pre-loaded maps.
According to the company, this new internet tablet has more complete support for both Javascript and AJAX which translates to much better functionality for web-based applications such as ThinkFreeOffice or Meebo browser has been upgraded from a special version of Opera which shipped with the N800 to Mozilla's new Gecko 1.90 browser which in conjunction with the aforementioned upgrades provides a significantly improved online experience.
"The Nokia N810 packs the power of a traditional computer into a pocket-sized format. Its open standard technology accelerates the convergence of multiple functionalities and services into a single device", said Ari Virtanen, Vice President, Convergence Products, Multimedia, Nokia. "Our new Nokia N810 offers users a true Web 2.0 experience in a compact, stylish, yet affordable package – it connects people to what matters to them."
The new Nokia N810 Internet Tablet which measures 128mm x 72mm x 14mm and weights 226g will be available in coming mid-November for US$479.