The developer of multi-platform product for a wide range of operating systems and embedded Internet products, Opera Software has announced the commercial release of the latest version of its award-winning Web browser for sophisticated feature phones and smartphones – Opera Mobile 9.5, offering zooming and panning which aimed to navigate and load pages quicker, plus benefits of get users even closer to the Web content they want.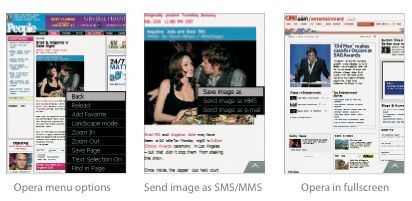 "Opera Mobile is the result of Opera's unwavering commitment to a vision that puts a true Web experience in the hands of mobile users," said Jon von Tetzchner, CEO, Opera Software. "The improved functionality of Opera Mobile 9.5 and easy access to information has raised the bar on a more compelling mobile Web browsing experience and will further stimulate mobile Internet adoption."
The following video is the video demonstration of Opera Mobile 9.5.
Features Of New Opera Mobile 9.5:
Faster speed
Features support fully loaded browser
Compelling experience
Intuitive user interface
Tabbed browsing
Improved text wrap
Page overview, zooming and panning
Landscape mode
Save Web page for future offline access
Call phone number from Web page
Send link/image as SMS/MMS
Small Screen Rendering
Password manager
Web address input auto-completion
According to the company, "Opera Mobile 9.5 will be available on all major platforms including Symbian, Windows Mobile and Linux, as both a standalone browser and as a SDK."
No words on its beta release date yet.
Update: Opera Mobile 10 Beta