The leading publisher of quality software and games for handheld devices, Handmark, has released a New Oxford American Dictionary application for iPhone and iPod. This dictionary will be very useful for the iPhone and iPod users in their daily life to help to find the meaning of the words from the device.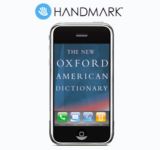 According to Cassidy Lackey (vice president of Handmark Studios) that they are proud to continue their partnership with one of oldest and most renowned publishers (Oxford) in the world for working together to bring thousands of pages of reference materials into one simple application.
The new oxford dictionary application has inherits about 250,000 worlds and definitions. It is stored locally so that the user can easily to use it without any wireless connection. Beside that, the application also offers with Oxford Dictionary of English, Oxford Thesaurus of English, Oxford American Writer's Thesaurus Oxford American Dictionary and thesaurus.
The design of this new application is simple and user friendly which allow them to search for entries by bookmarks, name and dictionary entries as well as play the audio for correct pronunciation. Currently, it is available for iPhone and iPod with the price of $19.99 at Apple AppStore.