The leading mobile products company, Palm, Inc. has announced its new touchscreen smartphone with a full QWERTY keyboard, named as Palm Pre, which based on a new groundbreaking mobile platform called webOS, combining smooth, rounded ergonomic design with variety of impressive features in a single device.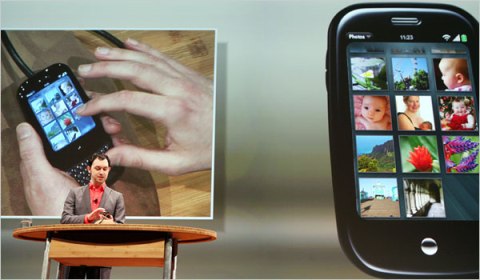 "Palm products have always been about simplifying lives and delivering great user experiences," said Ed Colligan, president and chief executive officer of Palm. "webOS and Pre bring game-changing simplicity to an increasingly mobile world by dissolving the barriers that surround your information. It's technology that seems like it's thinking ahead to bring you what you care about most – your people, your time, and your information – in the easiest and most seamless way."
According to the company, "The new platform introduces Palm Synergy, a key feature of webOS that brings your information from all the places it resides into one logical view. You don't have to worry about tracking multiple calendars, contacts and messaging applications – Synergy brings it to you for a more comprehensive and truly representative view of your life."
"Pre continues Sprint's leadership in open access to the content customers want for a great web-connected experience," said Dan Hesse, CEO of Sprint. "We look forward to bringing this remarkably innovative device to our customers on America's most dependable 3G network."
Features Of Palm Pre Smartphone:
Large 3.1-inch multi-touch screen with a vibrant 24-bit color 320×480 resolution HVGA display
Gesture area, which enables simple, intuitive gestures for navigation
Slide-out physical QWERTY keyboard
Email, including Outlook EAS (for access to corporate Microsoft Exchange servers), as well as personal email support (POP3, IMAP)
Robust messaging support (IM, SMS and MMS capabilities)
High-performance, desktop-class web browser
Great multimedia experience and performance (pictures, video playback, music), featuring a 3-megapixel camera with LED flash and extended depth of field, and a standard 3.5mm headset jack
Bluetooth 2.1 + EDR with A2DP stereo Bluetooth support
USB mass storage mode
MicroUSB connector with USB 2.0 Hi-Speed
Proximity sensor, which automatically disables the touch screen and turns off the display whenever you put the phone up to your ear
Light sensor, which dims the display if the ambient light is dark, such as at night or in a movie theater, to reduce power usage
Accelerometer, which automatically orients web pages and photos to your perspective
Integrated GPS and Wi-Fi 802.11 b/g
"As our lives revolve more and more around the web, devices like Palm Pre that transform how we interact with the web will lead the way," added by Hesse. "We are focused on bringing our customers a superior experience that includes easy-to-use devices, simple pricing and value with Simply Everything all-inclusive offerings, plus Ready Now, our exclusive retail program that helps customers leave the store feeling comfortable and confident they know how to use their new device."
The new Palm Pre smartphone which measures 59.57 (W) x 100.53 (L), closed) x 16.95 mm (D) and weights only 135 grams will hit Sprint stores in the first half of 2009.