The Japanese electronic manufacturer, Philips has unleashed its latest mobile phone Xenium X530. The flip phone is featured with various easy to use functions to enhance the user friendly environment. The long lasting battery has been improved which offers a talk time of up to 8 hours and a standby time of up to 850 hours.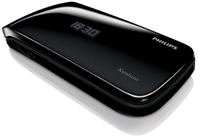 Featured with two displays, a 2.2-inch internal TFT display screen with 240 x 320 pixels and a 1-inch OLED external display, it also comes with a 2-megapixel camera. It powered by NXP 5210 chipset, integrated with a music player and a FM radio that will entertain users while on the go. Furthermore, it is Bluetooth enabled and supports tri-band GSM connectivity.
Although, the new stylist flip phone with measurement of 99.1 x 47.1 x 18 mm has been approved by FCC but the availability date and the price is not yet specify. It is expected to be available in Asia and Europe country.