One of the global leading maker of mobile phones, Samsung has announced the launch of its first solar-powered cellphone – Samsung Crest Solar E1107, which features 1.52-inch CSTN display with 128 x 128 pixels resolution, torch light, FM radio, embedded games and Mobile Tracker that automatically alerts users while their SIM card is changed or sends out an SOS message in emergency, supporting 5 -10 minutes of talk time with 1 hour of solar charging.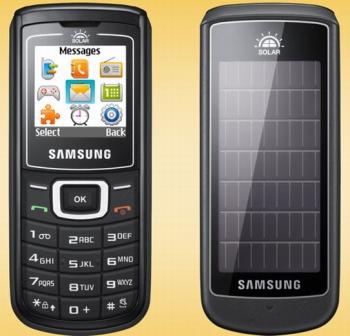 "The Crest Solar represents our effort and commitment to strengthen our leadership in the solar panel mobile market," said JK Shin, head of Samsung's Mobile Communication Division. "The Crest Solar will be the perfect fit for anyone in any market — not only because it is solar powered, but because it has features that were designed to appeal to various cultures."
According to Samsung, users of the Crest Solar mobile phone can pretend they have an incoming call for escaping unsafe situations, thanks to its fake call feature.
The new affordable Samsung Crest Solar handset will hit numerous markets including India, Europe, Southeast Asia, Southwest Asia and Latin America beginning this month.