The Korean electronic manufacturer, Samsung has announced its Samsung SCH-r211 via Cricket Communications. The candy bar phone has a simple design and comes in black color. The new Samsung SCH-r211 is featured with any-key auto answer for easy answering. The advanced wireless service (AWS) that able allows users to use the phone in all Cricket markets and make use of the text messaging services accordingly.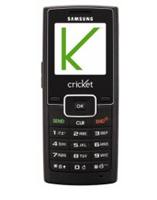 Featured with a 1.5-inch display, Samsung SCH-r211 is also Web enabled phone that enables users to download mobile content such as ring tones, wallpapers and etc. In addition, it also offers other features like calendar, calculator, memo pad, clock, USB port and etc.
"The r211 is an extremely attractive and durable device for customers who want easy access to all the services and features they need to conduct their mobile lifestyles", according to Jeff Toig, vice president of product marketing for Cricket. "The r211 brings the Samsung brand and high value to Cricket's sub-$100 retail category and is an excellent way for customers to take advantage of Cricket's unlimited plans."
The Samsung SCH-r211 phone with measurement of 4.07 x 1.77 x .59 is available at Cricket retail stores and dealers for the price of $89.99.