The Korea-based cellphone manufacturer, Samsung has recently introduced its three new fashion models with luxurious, sleek and stylish designs, the Samsung SGH-E950, SGH-E840 and SGH-J600 (Picture shown according from left to right) mobile phones which are a refreshing change of pace from Samsung's traditional black-slab design. All 3 slider phones are feature the cool touch sensitive keypad that respond to just a "light sweep of the fingers", not press like a regular keypad.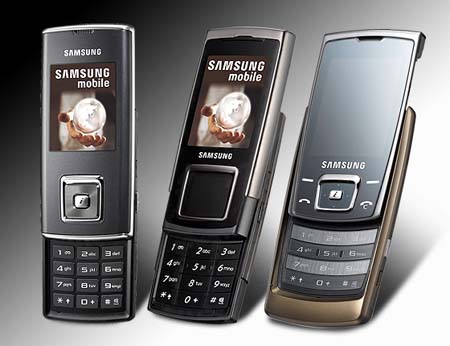 "Integrating beauty and technology in a mobile phone is something Samsung has always prided itself on. I believe that our latest portfolio of fashion phones – the SGH-E950, E840 and J600 – presents our users a selection of mobile phones which truly epitomizes the phrase 'beautiful technology'. I am confident that with their striking designs, ease of use and uncompromised performance and functions, Samsung's latest fashion phones will appeal widely to our Southeast Asian customers," said Mr. Geesung Choi, President of Samsung's Telecommunications Network Business.
The Samsung SGH-E950 is a powerful 3.2-megapixel camera phone with metallic finish and equipped with an improved, unique touch navigation user interface while the SGH-E840 is allegedly the thinnest slider phone on the planet at 0.41 inches (10.6mm). It also features the latest NF v3.4 internet browser, an embedded Web micro browser specifically made for handset use. Lastly, the SGH-J600 is a 1.3-megapixel camera phone that available in wide variety of colours including Dark Gray, Purple Blue, Cool Silver and Coral Pink.
The Samsung E950 will be available in Southeast Asia in coming July, while E840 and J600 have been launched this month in select Southeast Asian markets but no words on their price yet.