The Korean electronic giant, Samsung has intended to fullfil the need of people who emphasis importance of security by introducing a new phone called as Samsung W7100 that equipped with a 100dB alarm. The alarm phone is targeted at women and children to enhance their security.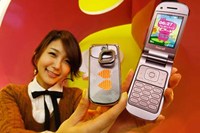 Samsung W7100 is able to emit an emergency sound as loud as 100dB and send a help to local authorities as well as call people for help. In addition, it also featured with a bright flash light that help the users to find their way out while in the dark situation. Samsung W7100 is available in 36 types of selectable pattern include cats, hearts, whales, users created and etc. The 100dB alarm is equivalent to the earbuds of a MP3 player with maximum volume.
The Samsung W7100 phone is expected to be available in Korea starting 13 March and the price is not yet release.