The new internet search engine, Wikia Search is finally made available to the public today. This new search engine is developed by Jimmy Wales, the co-founder of Wikipedia. The new Wikia Search is a product of Wikia Inc, a for-profit company independent of the Wikiamedia Foundation, the nonprofit organisation which runs Wikipedia. Wikia Inc plans to make money by selling ads.

Jimmy Wales highlighted in the main page of Wikia Search that "Search is part of the fundamental infrastructure of the Internet. And we are making it open source." Wales expects to use his "wiki" model, a voluntary collaboration of people, to fine tune the Wikia search engine. It allows users to rate search result for quality and relevance. Wikia will gradually incorporate that feedback in its rankings of Web pages to deliver increasingly useful answers to people's questions. By doing so, it will attract users' interest to use this open-source search engine.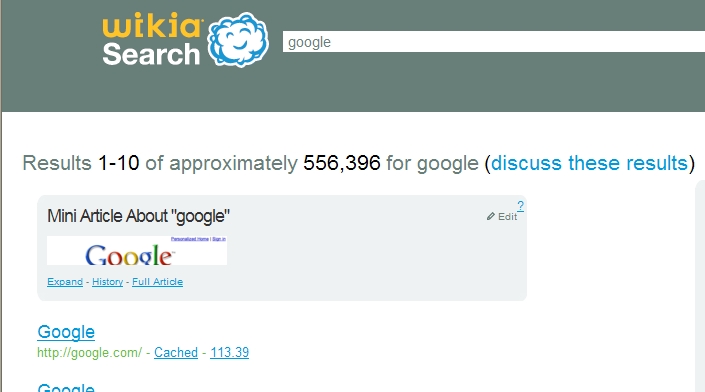 The screenshot shows that users are allowed to discuss the search result by clicking "discuss these results".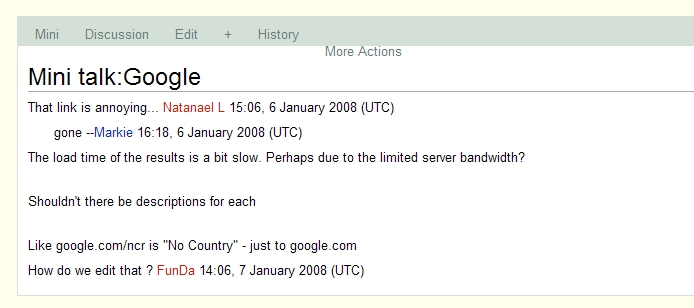 Users will be led to a "Mini Talk" session where users can discuss, edit and comment on the search result.
According to Wales, the Wikia Search is a combination of a social network and a search engine. In this public alpha release, users can also register an account, create their profiles and they are allowed to perform all the typical functions of a social networking site such as messaging friends, uploading photos, etc.
Initiating a search engine is not a simple task. It is not easy to grab the market share from established search engine such as Google and Yahoo. Building a search engine from the ground up, with results delivered and refined using the same approach that made Wikipedia the Web's favorite general reference site, is not going to be an overnight process, Wales admitted. Just looking at the near future, "we'd be ecstatic if we grabbed 5 percent of the market," Wales said.