Sony Ericsson has recently launched a new generation of mobile phones, a touchscreen organizers with a broad appeal – G700 and G900, featuring the same large 2.4-inch QVGA (240×320 pixels, 262k colours) display with unique single touch control menu.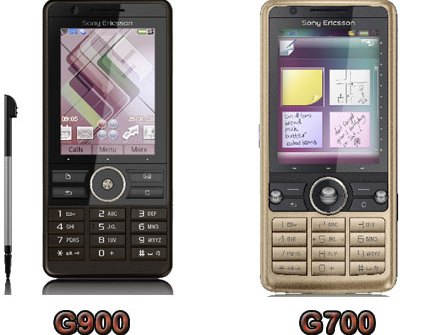 Key Features Of Sony Ericsson G700:
One-touch full organiser functions
3.2 megapixel camera
Touch controlled Notes application – write and draw your memo's
Compact size
"Sony Ericsson is delivering touchscreen and innovative organiser capabilities to a wide audience without compromising on the size or shape of the phone. Both the G700 and G900 have regular keyboards and are no larger than a regular phone." said Martin Winkler, Director Global Marketing and Head of Multimedia Web at Sony Ericsson. "These phones are ideal for users that are only interested in making their lives simpler. It's not about technology for the sake of it."
Key Features Of Sony Ericsson G900:
One touch media experience
5.0 megapixel camera with touch Auto focus and Multi-shot function
One- touch media and organiser menu
Wi-Fi for high speed data transfer and Internet browsing
Both of the new Sony Ericsson G700 and G900 will be available in Q2 2008 but no words on their price yet.