As video sharing become fast popular, Sony has launched its new digital camcorder for bloggers and internet video-sharing fans, named as Sony NSC-GC1 Net-Sharing CAM, which allows its users to upload short video clips to the video-sharing websites such as Youtube and Crackle.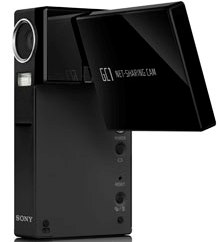 "People who upload videos frequently are looking for solutions to easily get their personal content online in a few simple steps, so we developed the Sony G1 Net-Sharing CAM to be intuitive," said Kelly Davis, director of product marketing at Sony Electronics. "It can be used as an everyday communication device, which can also be personalized to quickly share short video clips and photos online."
The Net-Sharing CAM that features an 2.4-inch color LCD display can capture video to Sony Memory Stick DUO in 2 resolutions which are QVGA (320×240) at 15 frames per second and VGA (640×480) at 30 frames per second. Furthermore, this pocket-sized digital camcorder will incorporate a Sharemark button so users can select videos and photos they want to upload via its pre-loaded PMB Portable software.
The new Sony Net-Sharing CAM that shoots video in the MPEG-4 recording format will hit the market in coming September for about $200.