The leading manufacturer of mobile computing solutions, Toshiba has announced the launch of its newest Portégé R600 (12.1-inch notebook as the successor to award-winning Portégé R500) ultraportable notebook, which includes Intel Core 2 Duo ULV (Ultra Low Voltage) processor, built-in 7mm DVD-SuperMulti drive, extended life battery (about 9 hours) and other innovative features.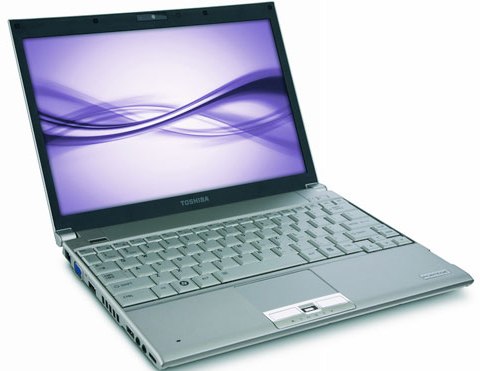 "As Toshiba's signature laptop PC, the Portégé R600 embodies the company's rich tradition of mobile computing innovation," said Carl Pinto, vice president of product development, Digital Products Division, Toshiba America Information Systems, Inc. "The Portégé R600 builds upon Toshiba's legacy of innovation and delivers a superior mobile experience by providing performance, functionality and flexibility in an extremely lightweight form factor weighing 2.4 pounds."
Impressive Highlights Of Toshiba Portégé R600:
Design Enhancements – The new Portégé R600 features an enhanced LED backlit transreflective display for better viewing angle and contrast as well as durable chassis without increasing the size or weight of the notebook. It's touchpad has been moved to the center and the buttons feature a tighter, firmer and more solid design. While the keyboard has been enhanced to provide a better tactile feel for touch typists.
EasyGuard Technology – Toshiba's Portégé R600 laptop features Toshiba's fourth-generation EasyGuard Technology with PC Health Monitor. This new feature is a preventative maintenance utility that continuously checks the performance and functionality of a laptop's critical hardware components and will alert users when the system is in need of a tune up. PC Health Monitor tracks the status of critical components, such as hard drive status, battery life and CPU temperature and system cooling warnings. In addition to PC Health Monitor, Toshiba's EasyGuard Technology is a proprietary, value-added series of hardware and software enhancements designed to better protect and secure one's laptop during everyday computing. Components include HDD Protection, a spill-resistant keyboard, fingerprint reader and Trusted Platform Module (TPM).
LED Backlit Transreflective Display – The laptop features a special button to allow users to toggle between indoor/outdoor modes depending on the lighting environments. Indoors, the LED backlit transreflective display produces an image rich in saturated color and of superb quality. Outdoors, the transreflective screen lets the sun's light pass through and reflects it out, bringing images on the display to life.
Solid State Drive (SSD) – Select Portégé R600 configurations feature a 128GB SSD, making it one of the world's lightest and thinnest laptops with an SSD. With no moving parts, SSD technology provides customers with an enhanced level of protection, reliability and fast data access.
USB Sleep-and-Charge/eSATA Combo Port – This unique port provides convenience and speed by allowing data transfers to and from an eSATA external hard drive at rates up to five times faster than USB 2.0, and the ability to charge select USB mobile devices whether the laptop is on, off, or in sleep or hibernation mode.
Green Attributes – The Portégé R600 is ENERGY STAR 4.0 compliant and has achieved a Gold status through the Green Electronics Council's Electronic Product Environmental Assessment Tool (EPEAT).
The new Toshiba Portégé R600 laptop PC which measures just 0.77-inch thin is available with prices starting at $2,099. Check more details of Toshiba Portégé R600 on its official site.