The worldwide leader in the production of Livelink ECM eDOCS DM administrative utilities, Matrix Logic Corporation has announced a new application for iPhone known as WirelessDMS iPhone Client. The new iPhone application enables users to use their iPhone or iPod for accessing business papers on Open Text eDOCs ECM solution while away from their desks.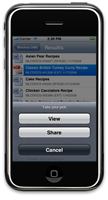 The application is available at zero cost from , once the client application is downloaded onto an iPhone, it accesses the documents through a network connection with a WirelessDMS iPhone Server module that can be purchased and installed on office servers. In addition to view documents, the users also can send email as attachments. This application has been enhanced by employ several iPhone features such as recent edits, quicksearches, scaling or rotating capabilities, viewing Office document, PDF and images.
"As far as I know, this is the only application of its kind for any document management system," said Stephen Page, President of Matrix Logic.
"Its development is part of our commitment to enabling users' access to crucial information anytime, anywhere."
"Now, if you're out of the office when a client calls with questions about a proposal that's on your office server, you can use your iPhone to search for the file and view the text as you discuss it," said Page. "You don't have to rely on your memory, wait until you're back in the office, or find a wireless network in order to log into your office system from your laptop."
The Open Text eDocs solution is useful for large and small size businesses and enables lifecycle management of content for the enterprise. Matrix Logic offers a one-time license purchase fee for the DMS server and an annual charge for a Software Subscription Service (SSS), which include software updates and technical support.