The leading company in digital imaging technology, Canon has announced the launch of its newest VIXIA HF11 (successor to HF10) Dual Flash Memory camcorder, and VIXIA HG21 and VIXIA HG20 HDD (Hard Disk Drive) camcorders, aiming to offer consumers superb HD image quality and expanded recording capacity.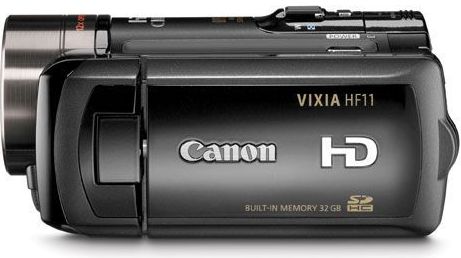 According to Canon, "The newest members to the VIXIA HD camcorder family incorporate Canon's core expertise in optics and image processing, and further raise the bar of High-Definition image quality by offering 24Mbps bit rate recording – the highest possible bit rate in the AVCHD format. The 24Mbps recording provides consumers enhanced detail, finer tonal gradation and improved reproduction of moving subjects. What's more, the new camcorders have higher internal memory capacity. The VIXIA HF11 Dual Flash Memory camcorder can record up to 12 hours of High-Definition video to a 32GB internal Flash drive, as well as record directly to a removable SDHC card for expanded recording time. The VIXIA HG21 and VIXIA HG20 camcorders feature 120GB and 60GB Hard Disk Drives, respectively, for recording up to 45 or 22 hours of HD video, and also offer the ability to record directly to an SDHC card."
Features Of Canon VIXIA HF11, VIXIA HG21 And VIXIA HG20:
Genuine Canon HD Video Lens
HD CMOS Image Sensor for Full HD (resolution of 1920 x 1080) image capture
Canon DIGIC DV II Image Processor for superior color and clarity
Instant AutoFocus for fast and accurate auto focusing
SuperRange Optical Image Stabilization for virtually shake-free images
"The upgrade to 24Mbps enables consumers to capture the highest quality of video in the market today, providing the best High-Definition experience on an HDTV," said Yuichi Ishizuka, senior vice president and general manager, Consumer Imaging Group, Canon U.S.A. "This increase, as well as dual recording options on all three VIXIA camcorders, is just another example of Canon's commitment to understanding the marketplace and helping to lay the groundwork to lead the market for the current and next generation of High-Definition camcorders."
The new Canon VIXIA HF11 Dual Flash Memory camcorder, and VIXIA HG21 and VIXIA HG20 HDD camcorders will be available in coming September for $1199, $1299 and $949, respectively.