The world leader in digital imaging, precision optics and photo imaging technology, Nikon has officially announced the launch of its newest full-frame (FX-format) digital SLR camera – Nikon D700, which builds on the immense success of Nikon D3 professional D-SLR camera, featuring 12.1 effective megapixel Nikon FX-format sensor that measures 23.9(v) x 36mm(h), aiming to offer superior picture quality, accurate color reproduction as well as revolutionary low light performance.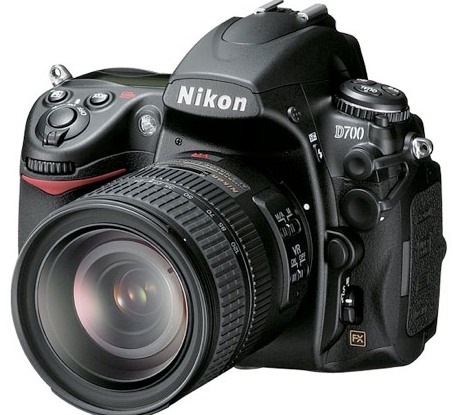 "The Nikon D3 has taken the action photography industry by storm, motivating many pros to change brands and we expect the D700 to contin5ue that trend," said Robert Cristina, Manager Professional Products and NPS, Nikon Europe. "The D700 excels in the extreme low-light and high-contrast conditions under which today's cameras are judged and affirms Nikon's ongoing commitment to meeting tomorrows imaging needs too."
Highlights Of Nikon D700 DSLR Camera:
12.1 effective megapixel Nikon FX-format CMOS image sensor
Wide sensitivity range of ISO 200 to 6400 at normal setting, and can be expanded to range from ISO 100 (Lo-1) to 25,600 (Hi-2)
High-speed start-up time equivalent to the D3 at approximately 0.12 second and has a nearly imperceptible shutter-lag response time of 0.40 milliseconds
Nikon's EXPEED image processing system incorporates technology accumulated throughout Nikon's long history ensuring superior picture quality and high-speed image processing
Nikon's renowned 51-point auto focus system with 3D Focus Tracking and two Live View shooting modes that allow photographers to frame a shot using the camera's 3-inch high-resolution LCD monitor
Nikon's first self-cleaning system designed for the FX-format sensor
Nikon's Multi-CAM 3500FX autofocus sensor module features 51 AF points and the ability to use 3D tracking to focus and lock-on a moving subject
Nikon's sophisticated Scene Recognition System analyzes information from the 1,005-pixel RGB light sensor for use in auto exposure, auto white balance and autofocus calculations
Nikon's Picture Control System enables users, from novices to professionals, to create the perfect image by making various simple selections and adjustments
Active D-Lighting allows photographers to choose various intensities — Auto, High, Normal, Low or Unchanged — prior to shooting
"Nikon FX-format cameras have teamed with our strong lineup of DX-format models to offer photographers unprecedented advancements in performance and versatility along with the freedom to choose the format that best serves their needs. Today's introduction of the D700 offers an important new option to photographers who need the overall performance and imaging perspective Nikon FX-format cameras offer," said Edward Fasano, general manager for marketing, SLR System Products at Nikon, Inc. "Nikon has developed a host of innovative technologies such as the Scene Recognition System and Picture Control, incorporating them into both FX and DX-format digital SLRs to ensure that photographers can leverage the advantages of both formats seamlessly, and achieve the end-results that best fulfill their photographic vision."
The latest FX-format Nikon D700 Digital SLR camera which able to shoot full-resolution JPEG images at five frames per second (fps) will be available later this month for about $3,000 (body only).