Panasonic has introduced its new LUMIX DMC-FZ28, the 10.1-megapixel super-versatile digital camera which includes a premium 27mm wide-angle and powerful 18x optical zoom Leica DC VARIO-ELMARIT lens, along with an enhanced Intelligent Auto (iA) Mode that adds new AF (auto focus) Tracking function to track the subject once the AF has been set even if the subject moves around, making it easier to shoot sharp, well-focused photos of decisive moments.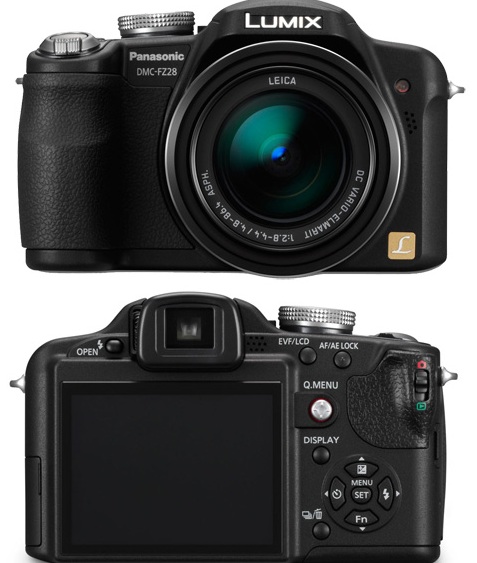 "The FZ28 packs a wide-angle lens and a high-powered zoom, so shooting outdoor events or vacation adventures is easy with this powerful camera," said David Briganti, National Marketing Manager, Imaging, Panasonic Consumer Electronics Company. "Without sacrificing Panasonic's reputation for high-quality lenses and innovative technologies, the FZ28 expands the Intelligent Auto Mode, allowing a user at any level to take high-quality photos."
In addition, the LUMIX FZ28 also features a large, 2.7-inch Intelligent LCD with 230,000-dot resolution, high resolution electric viewfinder (201,600 pixels) as well as HD video capabilities with a resolution of 1280 x 720p at 30fps.
According to the company, "For image processing, the FZ28 features the high-speed, high-performance, Venus Engine IV. Thanks to the Venus IV, the FZ28 can snap off consecutive shots at a fast max.13 frames per second for subjects with fast motion in High Speed Burst Shooting mode. In High Sensitivity mode, the FZ28 can capture stunning photos with sensitivity up to ISO 6400 in extremely low lit situations. The engine allows the FZ28 to shoot up to 460 photos (CIPA) on a single battery charge thanks to improvements in power efficiency."
Additional Features Of Panasonic LUMIX DMC-FZ28:
Image Leveling – When a captured image "leans" to the right or left because the camera was held at a slight angle when the photo was taken, the Image Leveling function rotates the image to straighten it and crops the unnecessary edges. No computer needed!
Scene Modes – The DMC-FZ28 offers a total of 37 scene modes to respond easily to any shooting situation. The new Pin Hole and Film Grain modes add unique, film camera-like effects and ambiences to images. Additionally, the actual effects of the scene mode can be viewed on the LCD before taking the shot.
Flash – Reaches a distance of 8.5 meters at the wide setting and 5.4 meters at the telephoto setting (ISO AUTO).
SILKYPIX Developer Studio 3.0 SE – Software application comes bundled with the DMC-FZ28 for editing and developing images in the RAW file format.
The new Panasonic LUMIX DMC-FZ28 digital camera that available in silver and black color will ship in coming August 2008 for about $400.