Nikon recently has introduced a pair of entry level cameras L20 and L19 into its COOLPIX L series. The cameras are designed for easy use and features with Easy Auto Mode that eliminates the need to manually select a scene mode to match the shot.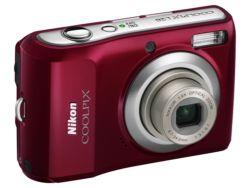 Both cameras features with Smart Portrait system that able to automatically detect as many as 12 faces in the shot, Face-priority AF that help produce satisfying portraits by adjusting focus and exposure. It also features with smile mode that helps to faithfully record precious moments by automatically releasing the shutter when the subject smiles and blink warning displays an alert when the camera suspect the subject has blinked.
Besides, L20 and L19 also features with Motion Detection that automatically controls shutter speed and the ISO setting to compensate for subject movement as well as camera shake.
Highlight others key features of COOLPIX L19 and L20:
3.6 optical zoom.
ISO 1600 capability.
Macro shooting from as close as 5 cm (2 in.).
16 handy scene modes for optimized shooting in various settings.
D-Lighting.
Active Zoom.
Three movie modes with sound.
Time zone function for easy setting of multiple locations.
Approx. 20 MB of internal memory.
Hi-Speed USB connectivity.
Power with two AA batteries.
L20 with 10 mega pixel and L19 with 8 mega pixel.
L20 with 3 inch screen and L19 with 2.7 inch screen.
The COOLPIX L20 will be available in Bright Silver, Deep Red, Navy Blue and Black Metallic and COOLPIX L19 will be available in Bright Silver, Shiny Pink, Black Metallic and Magenta. Both cameras are expected will be available in later Feb 09 with the prices of $130 and $100 respectively.