The global leader in digital imaging, precision optics and photo imaging technology, Nikon Inc. has announced the launch of its newest Nikon D3S FX-format digital SLR camera, which provides professional photographers an added shutter speed and aperture freedom with the industry-first, groundbreaking ISO sensitivity range from ISO 200 – 12,800 (expanded ISO equivalent settings from [Lo 1] ISO 100 to [Hi 3] ISO 102,400), offering a new level of power and performance in low-light photography.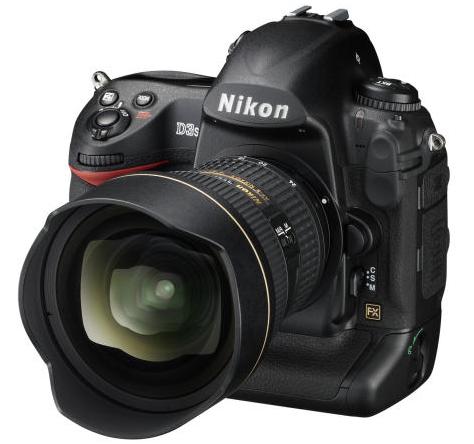 Features Of Nikon D3S D-SLR:
12.1 megapixel FX-format CMOS sensor measuring 36 x 23.9mm
Large 3.0-inch super density LCD screen (viewable up to 170 degrees) with 922,000 pixel
Latest generation of the EXPEED Image Processing System ensures faster processing speeds and lower power consumption
Base ISO sensitivity range from ISO 200 – 12800 (extended to incredible ISO 102,400 in the Hi3 setting)
14-bit A/D conversion and a 16-bit image-processing pipeline
Image Sensor Cleaning function reduces instances of image degradation resulting from dust accumulation on the OLPF (optical low pass filter) in front of the image sensor
Nikon's exclusive Multi-CAM3500FX Auto Focus sensor (51-point, 15 cross-type, more vertical coverage)
Capture images at 9 frames per second in FX-format or at up to 11 fps in DX crop mode
Refined D-Movie mode for FX-format offering smooth 1280 x 720 pixels HD video at a cinematic 24fps
Two Live View modes – Tripod mode for accurate AF operation and hand-held mode for more versatile shooting angles
Amazing 0.04-second shutter release time lag and improved AF accuracy work seamlessly for lightning-fast responses
Quiet Shutter Mode substantially reduces the sound of the camera's mirror-down cycle
Accelerated Scene Recognition System analyzes information from 1,005-pixel RGB light sensor for use in auto exposure, auto white balance detection and autofocus calculations
3D Color Matrix Metering II assists in ensuring accurate exposures, even in the most challenging lighting conditions, plus Active D-Lighting (ADL) to help determine proper exposure
Nikon's Picture Control System allows selection of Picture Control settings, including Standard, Neutral, Vivid and Monochrome
Two UDMA compatible CompactFlash card slots (overflow, back-up, RAW on 1 / JPEG on 2, Stills on 1 / Movies on 2, copy)
Newly added image area of 1.2x crop (30 x 20) format with approximately 8.4 megapixels
Rechargeable EN-EL4a battery supports up to 4,200 images per single charge
Fully compatible with Nikon's Creative Lighting System (CLS)
"When the Nikon D3 was released, it ushered in a new era of professional digital imaging. Today, the D3S will further reinforce Nikon's leadership role in the photographic industry as a pioneer in performance-driven technologies that will again break once-rigid picture-taking barriers," said Edward Fasano, general manager for Marketing, SLR Systems Products, Nikon Inc. "The ruggedly constructed D3S was engineered to address the real-world needs of professional photographers and provides them with a tool that, when combined with their skills, delivers stunning images in a broad range of shooting conditions and assignment requirements."
The new Nikon D3S Digital SLR camera which measures 6.3 x 6.2 x 3.4 inches and weights about 50.4 ounces is slated to be available at Nikon Authorized dealers starting late November 2009 for around $5,200 (body only).