The manufacturer of the world's first wireless memory card for digital cameras, Eye-Fi has collaborated with Nikon Corporation to deliver extended Eye-Fi functionality to the new Nikon D60 D-SLR camera. It's the first camera on the market to be part of the "Eye-Fi Connected" program.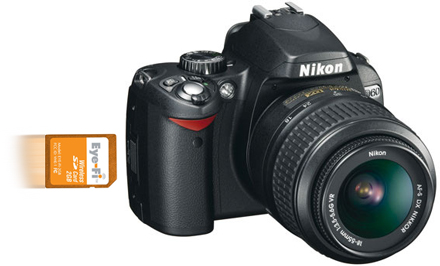 "Nikon has been on the forefront of embracing wireless photography and finding innovative ways for users to share memories," said Tadashi Nakayama, General Manager of Marketing, Nikon. "By working with Eye-Fi, we're making it easier than ever to save and share pictures without the inconveniences of wires and cables."
According to the company, the Eye-Fi-enhanced Nikon D60 will automatically adjust its power timer settings to ensure that photos upload effortlessly for sharing and storing. All you need to do is just insert an Eye-Fi Card to the camera.
In addition, Eye-Fi will also add Nikon's "my Picturetown" online photo storage and sharing community to its Eye-Fi Service.
"This is our first announcement with a camera manufacturer, and it's exciting to work with such a prestigious innovator in traditional, digital and wireless photography," said Jef Holove, CEO of Eye-Fi. "Our work with Nikon is another vital step in our mission to make taking, saving and sharing digital memories as automatic and effortless as possible."