When Nikon announced the released of its first "affordable digital SLR market" with the Nikon D70 in 2004, it was a great new for amateur photographers. Nikon D70 was revealed by Nikon exactly two years since the D100. This D70 inherited all the goodies from the higher-end D1 series. The only visible cost-cutting measure Nikon implemented on the D70 was polycarbonate versus magnesium-allow body. Even then, the polycarbonate body offered a lighter package and more shock protection over the metallic shell.

Even though Nikkon D70 manage to made its name when it was introduced, somehow or rather, after using it, the D70 couldn't really fulfill the need of some demanding photographers. D70 was thence upgraded with the introduction of the D70s. But its 6.1-megapixel, two-inch liquid crystal display (LCD) sounds outdated in a world where a 10.2-megapixel and 2.5-inch LCD displays are the norm.
To overcome the weaknesses of D70, the latest 10-megapixel, D80, is introduced! Compared to the D70s, the Nikon D80 has improvements in many areas. Physically, it sports a softer and rounder body over the D70's. The D80's features are also more elaborate. There are more settings to fine-tune along with a larger 2.5-inch LCD, a higher megapixel count and a Secure Digital/Secure Digital High Capacity (SD/SD-HC) slot which should see the D80 going beyond the two-gigabyte (GB) limit on regular SD cards.
The downside is that the D80 seems to be thirstier – which isn't surprising given the added megapixel count and a large charge coupled device (CCD). As with the D200, the D80 uses the 1500mAh lithium-ion EN-EL3e which relays a more accurate battery capacity. Rather than slotting in as a D70 replacement, the D80 feels more of an upgrade to the D50 and seems to inherit many traits from the D200.
Some of the more interesting features include the 11-area auto-focus which gives better framing/focusing capabilities than the five-area auto focus on the D70 and a neat centre auto-focus area, which can be toggled from normal zone or wide zone. Wide zone widens the centre auto-focus area, making it easier to get a lock on your subject without consciously trying to "hair-pin" them in your sight.
The D80 also inherited the customizable Func button (located above the depth-of-field preview button) which controls any of the preset function from ISO, framing grid, metering modes and even flash-off. In term of flash, the built-in flash now has a repeating flash (RPT) which is customizable for output, times and frequency, and a more elaborate commander mode function which allows for manual. Button functions also more logical as one no longer has to rotate the wheel while zooming in on a picture or to constantly have to re-enable the timer mode.
The D80 has a more elaborate long exposure noise reduction, which automatically kicks in at exposures slower than eight seconds, and the High ISO NR (above ISO400) function allows you to choose how aggressive noise is being removed with low, normal, high and off setting. The low and normal noise reduction algorithm implemented in the D80 is able to remove excess noise without losing too much detail.
Nikon also implemented a retouch menu which is rather a "Consumer-ish" feature for a digital single lens reflex (D-SLR). The retouch menu allows simple post-production effects such as cropping, filter effects, monochrome effects, red-eye correction, D-Lighting, image overlay and size-reduction.
D80 also retained the use of the remote cord from the D70s (MC-DC1) as well as the infra-red remote control (ML-L3) which can be used to hold and trip the shutter remotely on the D80.
In term of kit lens, the D80's kit lens, the 18-135mm f/3.5 – f/5.6 DX feels slow and somewhat cheap in construction as hinted by the omission of a distance metre and the use of plastic for the mount (as with the D50's 15-55mm DX kit lens).
D80 will be a good purchase for beginners or serious amateur photographers. It offers all basic function with latest technologies to the users. Can give it a try if you want more zoom from a kit lens and are willing to pay just a bit more for a D-SLR!
Summary of Key features
– 10.2 megapixel DX format CCD (1.5x FOV crop)
– Image processing engine (similar to D200 / D2X)
– 3D Color Matrix Metering II, 420 pixel sensor (same as D50)
– 11-area AF system (new version of Multi-CAM 1000, similar to D200)
– Custom Auto ISO (selectable maximum ISO, minimum shutter speed)
– Configurable high ISO and long exposure noise reduction
– Mechanical only shutter (maximum 1/4000 sec, flash sync to 1/200 sec)
– Quoted 80 ms shutter lag (short viewfinder blackout; 160 ms)
– Larger, brighter pentaprism viewfinder (x0.94 magnification)
– Support for SD-HC (SD cards over 2 GB in capacity)
– In-camera retouching
– D-Lighting (shadow / highlight enhancement)
– Red-eye reduction
– Trimming
– Monochrome
– Filter effects
– Small picture
– Image overlay
– Multiple-exposures
– Compact body (smaller, lighter than D70/D70s)
– Improved menu user interface (same as D200)
– Higher capacity EN-EL3e battery (provides detailed information, same as D200)
– Wireless flash integration (same as D200)
Read the review from PC Magazine.


Nikon D80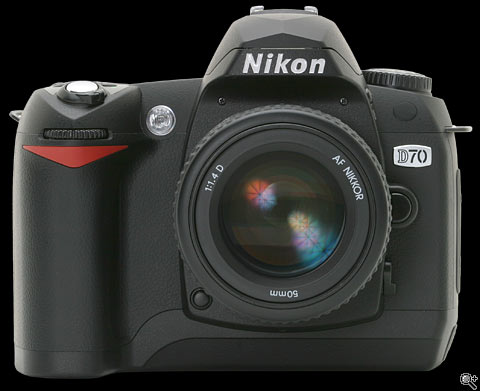 Nikon D70