Due to the popularity of PDF formats nowadays, users can easily find many PDF readers, PDF printers or creators to read PDF files or convert other files to PDF format. Amongst them, mostly the free version of PDF Readers and Printers are quite limited in term of functionality and features. Many free versions especially PDF Creators always apply some restrictions such as placing watermarks, logo, etc in the files created. If users are looking for a useful PDF Reader cum Creator that has less restriction but more interesting features, Nitro Reader, a free PDF tool perhaps is worthwhile exploring.

Nitro Reader offers more than what a standard PDF reader can offer. Besides reading PDF documents, this free application offers a full suite of collaboration tools that allows users to create or convert documents to PDF formats easily. This free pdf application is compatible with both Windows 32bit and 64bit platforms. Users who need a comprehensive type of PDF tools can go to Nitro Reader download page to download a free copy of Nitro Reader. The downloading process is rather straightforward without the user having to go through tedious processes, e.g. filling in particulars, etc.
Nitro Reader features a clean and neat interface. Being a PDF reader, this free application offers most of the standard PDF Readers' features, e.g. find text, zoom in/out, full screen view, navigate documents that contain bookmarks using bookmarks pane, and view pdf file's summary such as read metadata, creation information, size, etc. Besides that, Nitro Reader also allows users to rotate any page in the pdf file by 90 degrees. This feature is useful and eases users to read contents such as graphs, charts, etc when they are display in vertical way. Nitro Reader can be fully integrated in Windows 7. The reader allows users to do quick preview of PDF files inside users' email as well as in Windows Explorer without opening the document. Another interesting feature about this reader is it offers tabbed viewing of individual PDF files. Users can open and view numerous pdf files and work between multiple documents within the same window.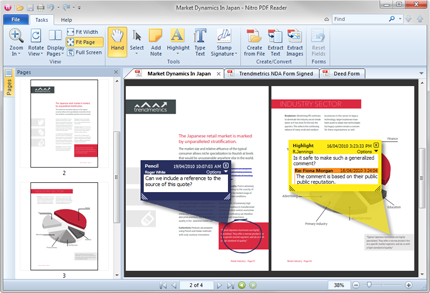 Nitro Reader offers a handful of useful tools and features when it comes to PDF creation. Nitro Reader offers PDF creation from over three hundred formats. The creation process is pretty simple. Users can just drag and drop any files onto the Nitro Reader desktop icon to create the PDF files. Users can set and enter document metadata for the PDF document they are going to create. Users can also allow users to make comments on their PDF files. For instance, users can add simple notes, highlight texts, add text directly onto the pages, customize pop-up notes and so on. These features tremendously enhance users' experience while creating their PDF documents. Being a free application, Nitro Reader never compromises on the security aspect. This PDF reader cum creator does allow users to create and apply digital signature to the document created. Besides, Nitro Reader allows users to adopt some security approaches such as disabling JavaScript in order to prevent unauthorized JavaScript-based activity and malicious attacks.
Nitro Reader Demo