You might be worried that some files sent over by your friends are infected by viruses. The antivirus software installed in your PC might be outdated or unable to detect the latest viruses. If you need a quick assurance to confirm whether these files are safe or exposed to any security threats, just try some free online scan services and they will alleviate your worries. Of course a simple virus scanning tool is not enough to remove all the infections on your computer system. However, this preliminary step somehow can minimize your risks and prevent any extensive damage. There are plenty of online virus scanners available in the net. Most of them are free. We have recently come across a pretty interesting and resourceful web-based virus scanner, namely" No Virus Thanks" that users probably should try.

No Virus Thanks is a free online scan service that allows users to scan individual files on demand. It utilizes various anti-virus programs such as McAfee, Panda, TrendMicro, Dr.Web, Comodo, Ewido, AVG, BitDefender, etc to scan and diagnose single files. Users who want to use this online malware scanner can upload the subject file to the site, sit down and wait, and the scanner will display and report the scanning results. For safety reason and if sers do not want their sensitive data distributed, users are given an option to do so. Users could just click on "Advanced Options" and enable "Do not distribute the sample".
No Virus Thanks is only limited to scanning file size of up to 20 Megabytes. Users are not allowed to upload any more than the maximum file size. The scanning process is generally quite fast. However, it depends on the queue status. If there is a long queue for scanning, it will slow down the overall timing. The report displayed is also quite detailed. It shows the results of each antivirus engine that has been used to scan the file. It also shows other info such as file size, MD5 Hash, time for scan, etc.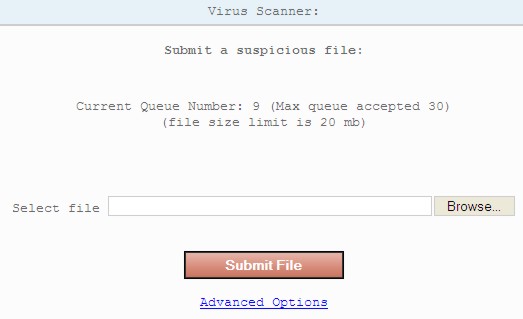 Select Files For Scanning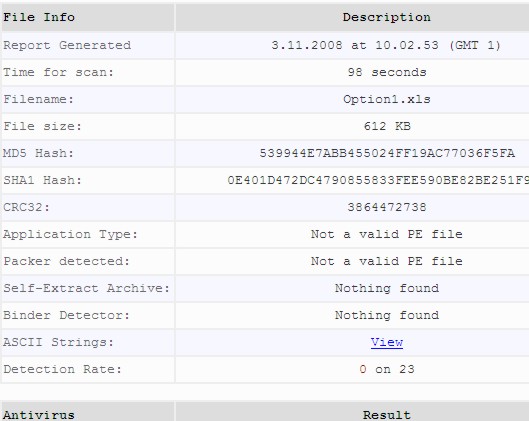 Scanning Result
Users who choose to use online virus scanners must always bear in mind that these scanning tools are no substitute for antivirus software installed in a PC. There is no exception for No Virus Thanks. No Virus Thanks is a handy tool to detect malware, but it wouldn't and it can't give you 100% effectiveness warranty.