Occasionally you may accidentally close any windows applications that you are currently working on by mousing over the 'close button' at the top right corner of the window. It may still be ok since most of the Microsoft applications already come with 'auto-saved' feature but in case there is not, you may want to find a way to be able to lock and prevent the windows from being closed unintentionally.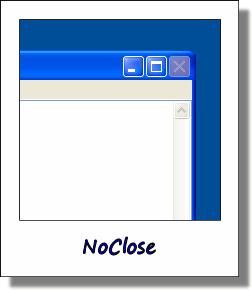 Once download and execute the program, you will notice a small icon appeared at your system tray indicating that the software utility is already running in background. To activate it, just use the shortcut key Ctrl + 1 (by default) and it will disable the 'close Button' (X) of the active window that you are working on. Pressing on the Ctrl + 1 combination keys again will toggle the locking mechanism off if you have decided to set it back to normal condition. By clicking on Ctrl + 2 hotkeys will allow users to add certain rules so that they can customize its usage based on own preference.
This software utility is quite useful in order to prevent some itchy hands especially when your kids are playing in front of your laptop. If you think this is useful, just go and get a free download here for immediate use.