The global leading provider of mobile devices, Nokia has expanded its popular XpressMusic family with its new compact Nokia 5530 XpressMusic, which features large 2.9-inch (640 x 360 pixels) wide touchscreen display with tactile feedback, 3.2-megapixel camera with auto focus and LED flash, ability to record 640 x 360 pixels resolution video at 30 fps, Bluetooth, Wi-Fi 802.11b/g, 3.5mm headphone jack, and Contacts Bar that provides users instant access to social networks, based on Symbian S60 5th Edition OS.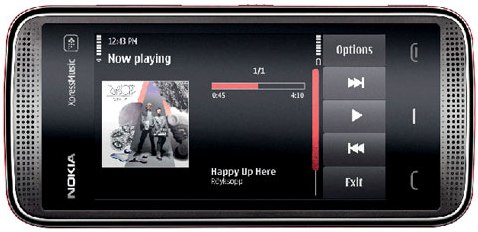 According to the company, "The Nokia 5530 XpressMusic is a great music player with 27 hours of playback time, excellent audio quality and a 4 GB memory card for storing music and other media. Videos, either self made or from social media sites such as Youtube and Facebook can be enjoyed on the brilliantly clear 2.9 inch widescreen display. New music can be purchased through the Nokia Music Store, either directly on the phone or through a PC. The music collection is easily managed and can be synchronized with the PC using the Nokia Music for PC application. Calls and music can be conveniently managed and listened to with the Nokia Stereo Headset WH-205 with tangle-free cable."
The new Nokia 5530 XpressMusic which measures 104 x 49 x 13-mm and weighs 107g is expected to be available starting Q3 2009 for about EUR 199.
Watch the demo video of Nokia 5530 XpressMusic.