After a long await, Nokia 5800 XpressMusic phone is finally available in United States. The touch screen phone which built-in with most of the music features is targeted to the music enthusiast.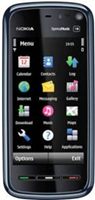 According to Ian Laing, Vice President, North America Sales, Nokia, "When it comes to music phones, people all over the world want a device that is a great music experience and still works really well as a mobile phone, without sacrificing features," and he further added, "The Nokia 5800 XpressMusic delivers on this and has clearly proven to be a device that consumers are clamoring for – selling more than one million worldwide since its introduction a few months ago."
Highlight key features of Nokia 5800 XpressMusic:
3.2-inch touchscreen display with resolution of 640 x 360 pixel.
3.2-megapixel camera with Carl Zeiss lens.
Automatic orientation sensor, Mediabar Touch Key, QWERTY keyboard.
Supports GPS and Bluetooth enabled.
8GB of internal memory.
Nokia Maps 2.0, GPS receiver, A-GPS, Document Viewer (Excel, PDF, Powerpoint, Word), Zip, Flash Lite 3.0.
The Nokia 5800 XpressMusic phone will be available in United States for the estimated price of $399.