Nokia has announced its first device for TD-SCDMA – China's domestic 3G standard, which called as Nokia 6788 at an event in Beijing. The Nokia 6788 is being designed specifically for China Mobile network and offers rich of data services. The phone has been designed to provide users with faster Internet speeds and download times for enhancing mobile experience. The phone has been incorporated with Chinese design elements including traditional Chinese patterns on the back of the slide and the battery cover.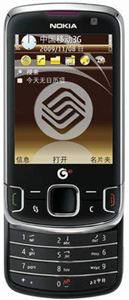 Speaking at the event, said by Olli-Pekka Kallasvuo, CEO of Nokia: "Nokia sees TD-SCDMA as being central to the successful evolution of 3G in China, and so is fully committed to this 3G standard. With a wide range of integrated China Mobile applications, the Nokia 6788 marks a new level of collaboration with China Mobile and offers enriched experiences to China's 3G users. Nokia plans to introduce more TD-SCDMA phones in the near future, further boosting the development of this 3G standard in China."
Featured with a 2.8-inch QVGA display, Nokia 6788 is also equipped with a 5-megapixel camera with a dual-LED flash and running on Symbian S60 platform.
"We are excited to see the launch of Nokia 6788," said by Mr. Lu Xiangdong, Vice President of China Mobile Communications Corporation. "With extensive experience in the China market, Nokia will provide Chinese consumers with TD-SCDMA solutions that are perfectly catered to their needs. Such cooperation between the world's largest operator and the world's leading mobile phone manufacturer will provide an important boost to the development of TD-SCDMA in China."
The Nokia 6788 is expected to be available at the end of December 2009 and the price is not yet announced.