Nokia E66 is the latest in Nokia's business oriented E-Series devices. The E66 is an extremely capable device with solidly built and slim and professionally attractive. The most important for business users are probably the organizer and email features which have been improved over previous E-Series devices and comes with powerful business tools.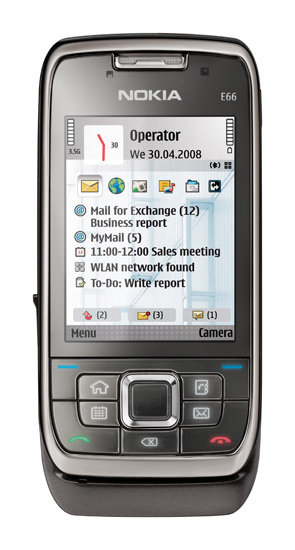 Besides, E66 offers little bit of fun with capable 3.2 megapixel auto-focus camera, the excellent Nokia music software and a powerful web browser. Other than that, the build in GPS functionality and updated Nokia Maps 2.0 is able to bring the user around.
With all of this features, E66 seems to be a dream phone. The downside is its price and poor battery life means that you won't be able to enjoy all these features for very long.
Some important features are:
Convenient email solutions, feature-rich Nokia Calendar and Contacts and improved easy dialing functionality
An orientation sensor for horizontal viewing, date and clock access from sleep mode, a dedicated camera key, and external notification light
Single click to wwitch from business to personal mode. Easy access to Nokia Maps, 3.2-megapixel camera, music player and FM radio
Secure VPN connection to a company intranet or connection to a PC to the Internet with Nokia PC Internet Access
Stay connected with 3G, HSDPA and WLAN connectivity
It will become available in 3rd quarter of 2008.