The slim and stylish Nokia E71 is famous among business user after it was launched in July 08. With a device of full QWERTY keyboard, it's targeting business users who lead a mobile lifestyle.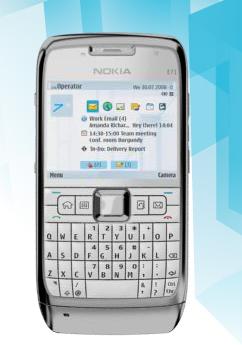 4 important reasons this phone is popular among business user:
a) This phone supports email accounts from more than a thousand internet services such as Yahoo, Gmail and Hotmail.
b) This phone also supports Nokia Intellisync Wireless Email solutions and also 3rd party email solutions.
c) It comes with the new switch mode that allows people to switch between personal and work home screens.
d) It comes with calendar entries and helps on business planning as well as Messages, Browser, Maps, Notes and File Manager.
Nokia E71 other features:
Quad band GSM / GPRS / EDGE: GSM 850 / 900 / 1800 / 1900
Dual band UMTS / HSDPA: UMTS 900 / 2100 (E71-1) or UMTS 850 / 1900 (E71-2) or UMTS 850 / 2100 (E71-3)
Integrated and Assisted GPS
FM Radio 87.5-108 MHz with Visual Radio
3.2 megapixel camera with autofocus and LED flash
Front facing camera for video calls
Self-portrait mirror
2.4 inch QVGA screen
Modes: Define user preset standby screens for different times of the day
QWERTY keypad
114 x 57 x 10 mm size which is world thinnest Qwerty phone presently