Nokia has officially announced its new Nokia E71x smartphone is now available via AT&T. The company claimed E71x as the thinnest QWERTY smartphone in the market. Nokia E71x is featured with high speed connectivity, has built-in music player, supports GPS with AT&T Navigator, equipped with a 2.4-inch LCD display, integrated with a 3.2-megapixel with auto focus function, supports messaging, social networks and etc.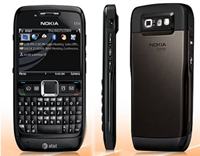 "The trend for messaging, whether email, IM, texting or social networking, is stronger than ever – we are seeing a real shift in the way people prefer to communicate," according to David Petts, Vice President and General Manager, AT&T Account, Nokia. "The E71x is one of the most stylish and sophisticated QWERTY smartphones in the market and it's the ideal companion for people who enjoy easy messaging and connecting with their friends. We are thrilled to now bring this sleek smartphone to people across the United States with AT&T."
"Cutting-edge smartphones like the E71x are a huge hit with our customers who see their mobile phone as a hub for their digital lives," said Michael Woodward, vice president, Mobile Phone Portfolio, AT&T Mobility and Consumer Markets. "Our customers rely on smartphones to stay connected using e-mail, text messaging, and social networks. The E71x is ideal for that."
The Nokia E71x is now available online or via AT&T stores and is priced at USD99.99.