Nokia Beta Labs has released the latest mobile app which called as Nokia Image Space. The Nokia mobile application provides the users a new view to their photos and instantly uploads the photos to Flickr. Apart of that, the application also allows "spatial browsing of photos".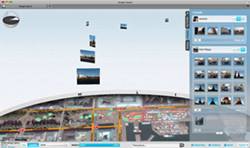 The application has been designed to link with Flickr account, therefore a Flickr account is required in other to use this application. The users can simply capture the photos with a phone which has Nokia Image Space Capture and upload the photos to their Flickr account for sharing and browsing.
According to Nokia Beta Labs blog, the photo is geotagged and will have full orientation information in the metadata. With this information, the photos from different Image Space users are contextually linked between each other as well as create a better understanding of the place that the users browsing.
The Nokia Image Space browser works well on Firefox, Internet Explorer and Safari Browsers with Adobe Flash 10 plugin. However, the Nokia Image Space Capture has been tested to support a series of S60 (3.2 or 5.0) Nokia phones with built-in compass like Nokia N97 mini, Nokia 6720 Classic, Nokia 6210 Navigator and Nokia 6710 Navigator.
The Nokia Image Space is available for free download from Nokia Beta Labs.