Nokia Research Center (NRC) and the University of Cambridge (UK) have jointly developed the Morph cellphone using nanotechnology, delivering the ultimate functionality including flexible materials, transparent electronics as well as self-cleaning surfaces. It's the concept phone which has been designed to demonstrate how future mobile devices might be stretchable and flexible.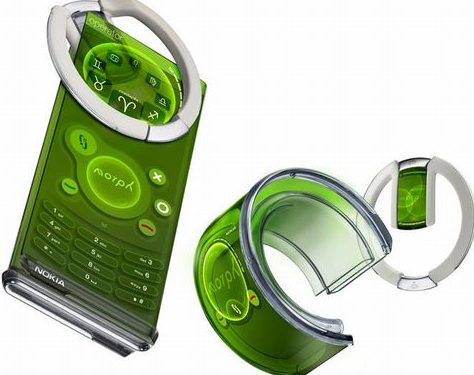 "We hope that this combination of art and science will showcase the potential of nanoscience to a wider audience. The techniques we are developing might one day mean new possibilities in terms of the design and function of mobile devices," said Dr. Tapani Ryhanen, Head of the NRC Cambridge UK laboratory, Nokia. "The research we are carrying out is fundamental to this as we seek a safe and controlled way to develop and use new materials."
Fantastic Opportunities For The Morph Concept:
Newly-enabled flexible and transparent materials blend more seamlessly with the way we live
Devices become self-cleaning and self-preserving
Transparent electronics offering an entirely new aesthetic dimension
Built-in solar absorption might charge a device, whilst batteries become smaller, longer lasting and faster to charge
Integrated sensors might allow us to learn more about the environment around us, empowering us to make better choices
"Developing the Morph concept with Nokia has provided us with a focus that is both artistically inspirational but, more importantly, sets the technology agenda for our joint nanoscience research that will stimulate our future work together," said Professor Mark Welland, Head of the Department of Engineering's Nanoscience Group at the University of Cambridge and University Director of Nokia-Cambridge collaboration.
According to the company, "Elements of Morph might be available to integrate into handheld devices within 7 years, though initially only at the high-end."
Watch a demo video of the Morph cellphone concept below.