After a long wait, Nokia has finally unveiled its Nokia N900 which runs on Linux based Maemo operating systems that make it operate like a PC. With the Linux based Maemo, the smartphone able to run multiple applications simultaneously. The smartphone has been enhanced for those users who like to customize the home screen with their favorite shortcuts, widgets and applications.  The text messaging functionality has been improved with full slide out QWERTY keyboard.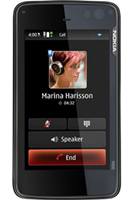 Featured with a 3.5-inch high-resolution WVGA touch screen, Nokia 900 is also equipped with ARM Cortex-A8 processor, 1GB of application memory and OpenGL ES 2.0 graphics acceleration. It boasts a high-resolution camera with 5-megapixel, comes with a 32GB of storage. Apart of that, it is Wi-Fi enabled and supports up to 48GB of microSD card.
"With Linux software, Mozilla-based browser technology and now also with cellular connectivity, the Nokia N900 delivers a powerful mobile experience. The Nokia N900 shows where we are going with Maemo and we'll continue to work with the community to push the software forward. What we have with Maemo is something that is fusing the power of the computer, the internet and the mobile phone, and it is great to see that it is evolving in exciting ways," said by Anssi Vanjoki, Executive Vice President, Markets, Nokia.
The Nokia N900 is expected to be available in selected markets by October 2009 and is priced at about $713. However, it will be exhibited at Nokia World in Stuttgart on September 2.