The new toy Nokia N95 is a smartphone which based on the world's leading S60 software on Symbian OS and it comes with a clever two way slider opening mechanism. As result, N95 users can slide it's screen up or down to reveal a decently-sized backlit keypad with regular keys that are ridged to make them easy to hit and also get a column of four music playback control buttons in landscape mode at the opposite side.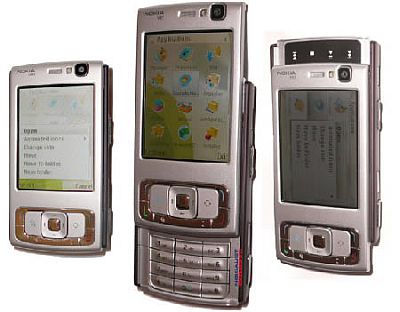 For display, Nokia N95 features a gorgeous 2.6-inch QVGA TFT screen with a 16 million color output, 320×240 pixel resolution, and the weight of N95 is coming in at 120g only. In addition, Nokia N95 features 3.5G, or HSDPA (High Speed Downlink Packet Access) that can let you browsing the internet, reading email, streaming video and downloading large files more faster. Nokia N95 also supports WLAN, EDGE, and WCDMA networks, 3D graphics, built-in stereo speakers, a 3.5mm audio jack, a microSD card slot, and mini USB socket.
Key features of  Nokia N95 include a dual-slider designer, integrated WiFi, GPS functionality, 3G connectivity, quad-band GSM radios, and a five-megapixel camera with Carl Zeiss optics. They're also nice enough to bundle in a 1GB microSD card as part of the package.
Although Nokia N95 incorporates a 5 megapixel auto-focus camera with Carl Zeiss optics but still doesn't have an optical zoom. Anyway, this N95's camera is accompanied by a 'ring-slider'  that can activate the camera application by open and closes the shutter.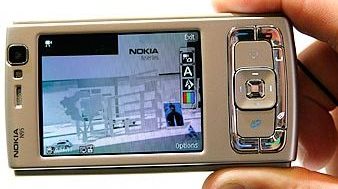 Besides, the Nokia N95 also comes with a dedicated maps application that includes maps for more than 100 countries and covers more than 15 million points of interest. It's available on a separate CD that you can load into the phone depending on what you need and where you are (with N95's built-in GPS receiver).
As a conclusion, Nokia N95 is not only a phone but can consider as one amazing "multimedia computer".