Nowadays, you can almost enjoy the free Wi-Fi services almost anywhere in high human traffic flow area, but how about in the bus? The well-known Finnish multinational communications corporation, Nokia is offering free WiFi services on 12 popular buses running across Singapore, allowing commuters to surf the internet, chatting as well as emails for free.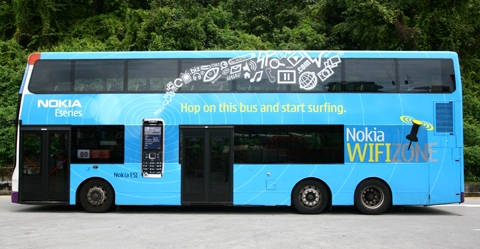 "We see the launch of the Nokia Wifi Zone initiative a natural extension of our goal to connect people – to the Internet, to their favorite web applications on the move, given the proliferation of mobile gaming, digital music consumption and online social networks like Facebook and Friendster among Singaporeans," said Chris Carr, General Manager of Nokia Singapore.
"I believe this is the first of its kind in Singapore and we are excited by the possibilities of what our consumers can do with the free Wifi access on the buses as they commute on a daily basis. We want consumers to have a seamless mobile internet experience on the go, especially with the added speed and convenience offered by our wifi-enabled devices under the Nokia Nseries such as the Nokia N95, Nokia N95 8 GB, Nokia N80 Internet Edition, Nokia N81, Nokia N81 8GB, Nokia N800 Internet Tablet, Nokia N810 Internet Tablet, and the Nokia Eseries such as the Nokia E51, Nokia E61, Nokia E61i, Nokia E65 and the Nokia E90 Communicator," added by Chris.
According to the company, these newly-launched Nokia's WiFi zone are a first in Singapore and Asia Pacific. Hopefully, the free services will available around the world as soon as possible.