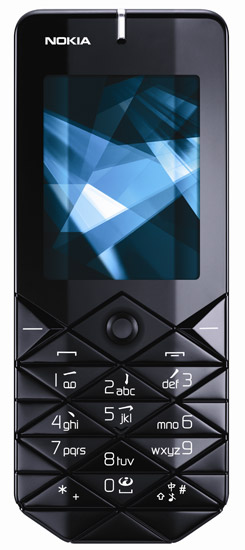 The world's leading communications company as well as world's largest manufacturer of mobile telephones, Nokia Corporation, unveiled its two new phone models, namely Nokia 7500 and Nokia 7900 lately. These two new phones are categorized under luxury Prism Collection which target style conscious consumers. Nokia Prism collection is highlighted by cutting-edge colors, materials and graphics. Its signature diamond-cut design, featuring sharp angled lines, geometric patterns and graphic light-refracting colors, ensure these models stand out in the mobile phone market.

Nokia 7900 Prism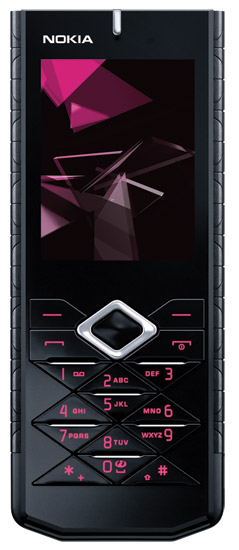 Opposite its sleek, liquorice-black front, the Nokia 7900 Prism comes with an anodized aluminium backcover, which is coin-stamped and laser-etched in Nokia Prism's signature diamond-cut design. Its design is amongst the first to feature an Organic LED main display that supports up to 16 million colors and displays light-focused screensaver graphics. In addition, the Nokia 7900 Prism features a "living wallpaper", which subtly changes throughout the day according to time as well as battery and signal strength, so that each screen is unique.
For greater personalization, the Nokia 7900 Prism offers a gallery choice of 49 illumination colors. Once selected, this color radiates from under the graphic key-mat as well as from the LED display. Lights are also emitted from the top of the phone to signal missed calls and messages.
The Nokia 7900 Prism features dual band 3G technology for fast and easy downloads and browsing, and quad band GSM capability for worldwide connectivity. In addition to a 2 Mpx camera, the Nokia 7900 Prism comes with 1GB of internal memory for lots of pictures, video, contacts and more.
Nokia 7500 Prism
The Nokia 7500 Prism is the Nokia 7900 Prism's quirky sibling. The Nokia 7500 Prism's slick black exterior is spliced with bright, interchangeable color accents. The Nokia 7500 Prism has a 2 Mpx camera and it can record high quality movies. The Nokia 7500 Prism can play music for nine hours and hold up to 1500 songs on an optional 2 GB microSD card.
The GSM Nokia 7500 Prism is priced at 210 euros while the 3G Nokia 7900 is 400 euros. Both will be available in the market by end of September.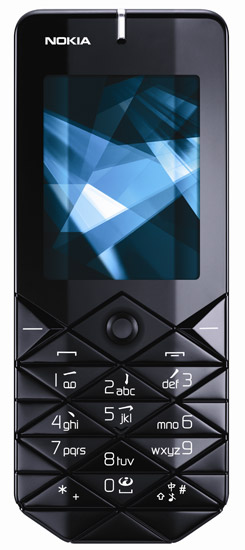 Nokia 7500
Nokia 7500 Prism Preview

Nokia 7500 Prism Commercial