Nokia collaborates with Lonely Planet to sell maps and city guides which allow the Nokia phone user to access the map and city guides on mobile phones.
According to Nokia, each download will only cost US$11.75. This Maps can be download at more than 100 popular tourist locations provided by Lonely Planet. The maps cover over 200 countries, with over 70 of them navigable.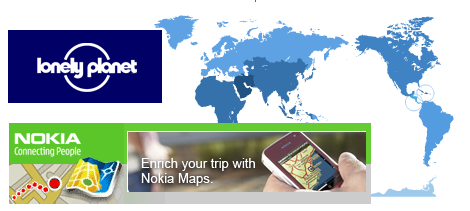 With the Lonely Planet map guide, it helps the user to get the good place for eating, shopping as well as traveling. Besides, it describes the popular sights and nightlife for each destination. It also helps you to find the destination and plan your route street by street, city to city.
According to Maximilian Schierstadt, the Nokia head of media Partnerships, "Lonely Planet is a well known brand amongst travelers and stands for adventure and editorial independence. We are very excited to offer their expert local recommendations and itineraries to our Nokia Maps consumers, which will allow Nokia to continue to innovate and enable compelling location aware experiences."