Nokia has unveiled another Nokia N79 model known as N79 Eco after unveiling Nokia 79 Active. Nokia N79 Eco is designed especially for people who really care about the environment.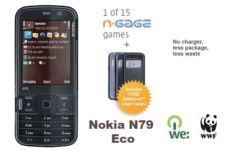 The significant different of N79 Eco version is that it packages in small box without a charger. This is because Nokia is assuming and hoping the Nokia Phone owner can used their existing Nokia charger to charge their new N79. Nokia also will donate £4 to WWF for each Nokia N79 eco phone has been sold.
Actually, Nokia N79 Eco version is like N79 which features with a 5 megapixel camera, video recording capability, FM transmitter, Bluetooth enable, GPS and Wi-Fi connectivity as well as external memory space with up to 16 GB and integrates Nokia Maps.
Currently, the Nokia N79 Eco is available in Europe for the price of $477 and in petrol black color with various covers.