Symantec is now developing its version 16 of Norton Internet Security (NIS) and Norton AntiVirus (NAV) products, to be called Norton Internet Security 2009 and Norton AntiVirus 2009. Both 2009 series security apps are based on the Norton Protection System, a multi-layered set of technologies that work in concert to stop threats before they impact user's computer, by using security information from millions of users to pre-determine what files and processes are safe, and what aren't.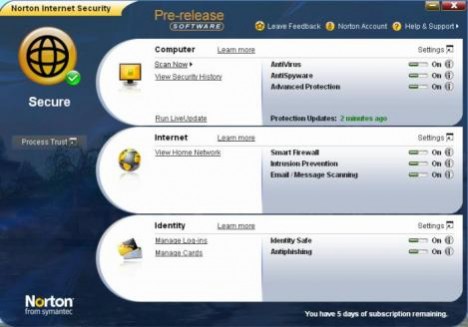 The Norton 2009 beta program has been launched to allow adventurous users who join, to be the first one to get to use these two future software, tryout the features and provides feedback or bug reports. And the best part is, by joining the beta program, users get to use NIS 09 and NAV 09 for free, with a genuine product key for activation.
The 2009 releases of Norton Internet Security and Norton AntiVirus were engineered to be fast, and light on system resources. Norton Internet Security provides comprehensive security against all types of online threats while Norton AntiVirus protects against malicious software without slowing computer system down.
New features in Norton Internet Security 2009 and/or Norton AntiVirus 2009
Innovative new architecture dramatically reduces the boot time impact, the scan time, the memory usage as well as the system footprint and the install time.
Smart Idle Time Scheduler runs quietly in the background to let you work and play without disruption.
Silent Mode ensures your games and movies are never interrupted by alerts and security updates.
Enhanced Browser Protection blocks browser exploits and protects against infected websites (now supports Firefox).
Expanded SONAR Protection offers real-time protection against new and unknown threats without requiring the user to make confusing security decisions.
Enhanced Identity Safe now includes an interactive tutorial to get users up and running, cloning of your cards importing your data from Internet Explorer and more!
Improved Home Network Security Networked devices report their health and status through a visual map.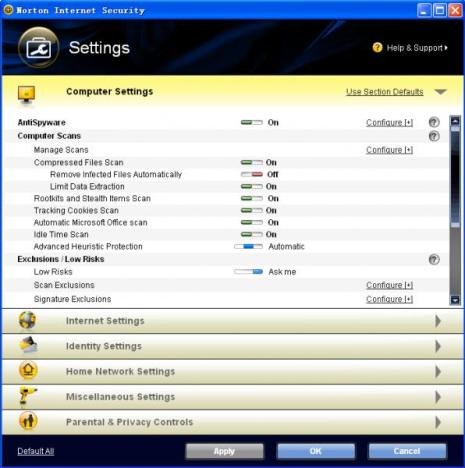 To get your unique personal product key or serial number for NAV and NIS 2009, go to Norton AntiVirus 2009 beta download page or Norton Internet Security 2009 beta download page. Select the country of your location, fill in email address and click to check box to agree to the terms of free beta software, and then click "Submit" button. An legitimate and valid product key will be sent to your mailbox, and the direct download link will be presented on screen, which is listed here.
Norton Internet Security 2009 Beta: NIS-16-0-0-BETA.exe
Norton AntiVirus 2009 Beta: NAV-16-0-0-BETA.exe