How many times have you actually mis-pressed the Voicemail button on iPhone's Phone app menu that made an unnecessary call to your Voicemail box? iPhone touch screen is so sensitive that you may have accidentally pressed the button and now with NoVoiceMail, the great and simple tweak from Bigboss, there is a way to hide the Voicemail button to eliminate the trouble and more importantly, saving all your hard earn money that will be charged by cellular or telco providers.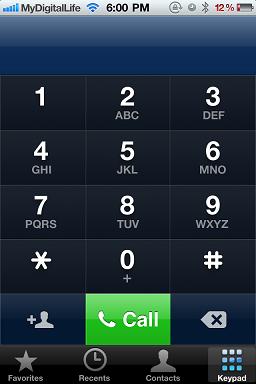 Since this is in Cydia, it also means that you will need to jailbreak your iPhone before can enjoy it. Assuming that you have already jailbroken it, just head over to Cydia and under 'Search', key in NoVoiceMail and it will list down the respective app ready for download. Download and follow by a Springboard restart will make it effective. By now, you should realize that the Voicemail button (which was originally located at the bottom right corner of Phone app menu) is no longer there, making no way for you to accidentally pressing on it.
In case you need to use or enable the Voicemail button back, just go to Cydia -> Manage -> Packages -> Browse to 'NoVoiceMail' -> Modify -> Remove -> Confirm follow by SpringBoard restart and you should be able to recover it back to original Phone interface for quick voicemail access.