The leading provider of speech and imaging solutions for businesses and consumers, Nuance Communications, Inc. has launched its new Dragon Dictation App for Apple iPhone. It's the easy-to-use voice recognition application (based on Dragon NaturallySpeaking) that allows iPhone fans to easily speak text messages, emails and more to stay connected instead of typing, delivering up to 5 times faster than typing on the keyboard.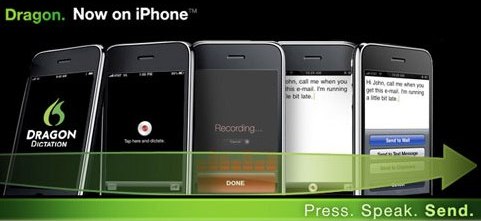 According to the company, Nuance Dragon Dictation also works with iPhone clipboard for speaking naturally and then pasting text into other applications including Facebook and Twitter.
"Dragon Dictation takes the messaging experience on the revolutionary iPhone to a whole new level," commented Michael Thompson, senior vice president and general manager of Nuance Mobile. "Dragon Dictation is also incredibly natural and intuitive. Users will soon find they're speaking more than typing using the power of speech to communicate even faster, whatever they're doing and wherever they are."
Nuance Dragon Dictation App for iPhone (running iPhone OS 3.1 or higher) is now available as a free download (limited time only) from Apple App Store.