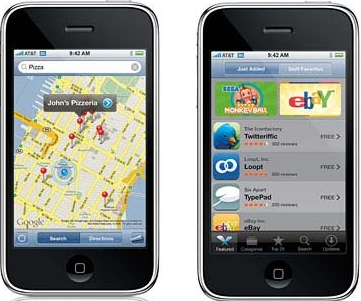 Apple iPhone is set to record a new milestone: the revolutionary iPhone 3G with new features will be unveiled by O2 in UK on July 11. iPhone 3G blends the excellent features of iPhone and 3G networking, built-in GPS for expanded location based mobile services, and iPhone 2.0 software which includes support for Microsoft Exchange ActiveSync. O2 is optimistic towards this Apple's new product and unveiled an attractive promotion plan for existing O2 consumers. If you are an O2 consumer paying £45 or £75 tariffs, iPhone 3G will be available to you for free. If you are paying the £30 or £35 tariffs, iPhone 3G will only cost you £99.

The latest 3G iPhone is twice as fast as the first generation iPhone. The 3G features unlimited browsing on the iPhone, unlimited Wi-Fi access, and visual voicemail. Users of the new iPhone 3G will continue to have unlimited data browsing over the 3G network, as well as free access to the internet in BT Openzone and The Cloud wireless hotspots. iPhone 3G business customers can also receive many of the same benefits as existing O2 business customers including unlimited calls between O2 customers, unlimited calls to ten landlines, shareable minutes and texts between users plus multi-user billing and activation and free, 24×7 access to business customer care specialists.
Apple iPhone has been a phenomenal success and the new improved iPhoen 3G can only be better. The 3G will be available in the UK through O2, Carphone Warehouse and Apple sales channels. Existing customers can also take advantage of the early upgrade offer via www.o2.co.uk/iPhone.