Nowadays mobile devices have been added with various new technologies and among one of them is the accelerometer technology especially on high end mobile devices. While most of the existing mobile devices are still lacking this capability, Oberthur Technologies has been developing a powerful SIM card that intends to turn any conventional low end mobile phones into a motion activated device in mobile market. Named as SIMsense, it is a handset independent SIM card featured with embedded accelerometer technology targeted for those that would like to enjoy the motion control functionality.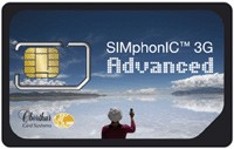 With just upgrading to the new SIM card, it will bring new capability to users to navigate through phone menu by only performing different motions such as shaking the phone, turning phone in different directions and etc. Even useful scenario could be when a sudden drop of the device that triggers a SOS message being sent during an emergency situation.
As the next generation SIM card has just been announced during the recent Mobile Word Congress event held in Barcelona, no pricing and availability yet, but we should expect it to reach market space to tap into fast moving mobile technology with enhanced capability without the need for users to spent extra money to upgrade to a brand new mobile unit.