You have successfully activate Windows Vista instantly in OEM style by using hardware-level BIOS ACPI-SLIC mod, or one of the two software based OEM BIOS emulator such as softmod SLIC BIOS bootloader and Paradox OEM BIOS Emulation Toolkit. However, if you're not install Windows Vista with OEM DVD media image, your installed version of Windows Vista edition is just of plain flavor. If you fancy to have some OEM logo identification and OEM information somewhere in Windows Vista such as for Dell in the illustration below, below has a few auto patcher that automatically add and install either Lenovo, HP or Dell OEM logo and information to Windows Vista.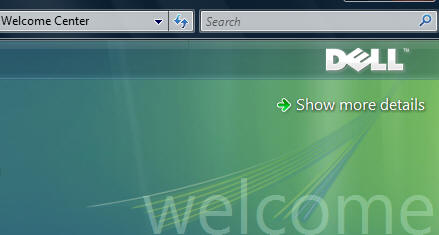 Dell OEM logo in Windows Vista Welcome Center

A user at a Chinese Windows Vista forum has created automated installer that add the OEM logo and info to Windows Vista. Once executed, the setup will copy the required files to \Windows\System32\OOBE folder or its sub-directory, depending on which OEM brand you pick. It will also automatically merge the registry entries and values for OEM logo and info to at least the following two registry keys:
HKEY_LOCAL_MACHINE\SOFTWARE\Microsoft\Windows\CurrentVersion\OEMInformation
and
HKEY_LOCAL_MACHINE\SOFTWARE\Microsoft\Windows NT\CurrentVersion\Winsat\WindowsExperienceIndexOemInfo
Download automated OEM logo and info installer for OEM brand:
Acer (AcerOEM.exe) – by SoKoOLz)
Acer (ACEROEM_(latest).zip) – transparent background OEM logo in Welcome Center, by Vincent
Alienware (AlienwareOEM.exe) – by SoKoOLz
ASUS (ASUSOEM.exe) – not perfect as trying to load uiStub.exe (security software) from Symantec as free offers (in Chinese) to ASUS customers.
Asrock (AsrockOEM.exe) – by jrangels
BenQ (BenQOEM.zip) – by QQ
BenQ (BenQOEM.exe) – by SoKoOLz
Dell (DellOEM.exe)
Emachines (EmachinesOEM.exe) – by jrangels
Fujitsu Siemens (FujitsuOEM.exe) – by jrangels
Gigabyte (GigabyteOEM.zip) – by Vincent
Gigabyte (GygabyteOEM.exe) – by jrangels
HP (HPOEM.exe) – has to manual copy all files to C:\Windows\System32\oobe\info, and double-click gigabyteoem.reg, by SokoOLz
Lenovo (LenovoOEM.exe) – with Chinese EULA
Lenovo (LenovoOEM.exe) – by jrangels
Toshiba (ToshibaOEM.exe) – by jrangels
To use the automated patcher and installer for OEM logo, simply double click on the downloaded executable, and then click on the Install button (you will see garbage text, but just click on the left button of the bottom two to start the installation. If your Windows Vista installation is not on C:\ drive, select from the drop down list under the label D.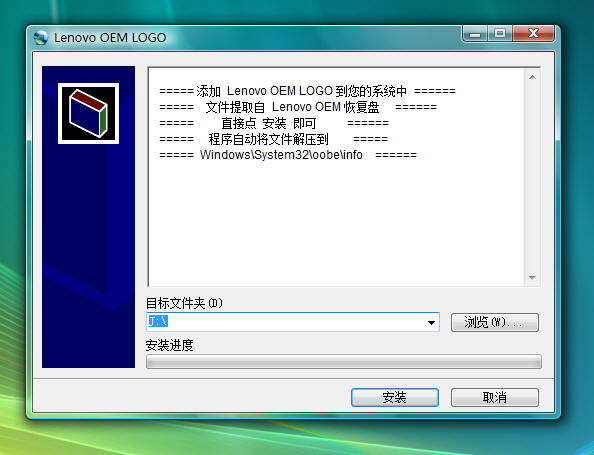 Click on the left bottom button to start install OEM logo.
After the OEM logo and information has been applied, you will see Welcome Center and System of Control Panel as in screenshots below. The information has added optional items related to OEM manufacturer include the manufacturer and model, a small logo picture, and a button leading to a separate page of support information.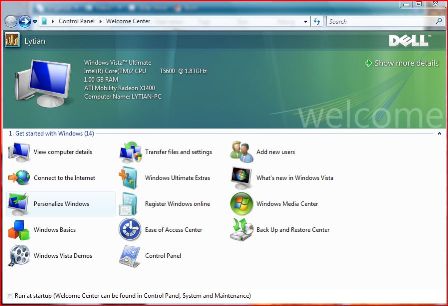 Welcome Center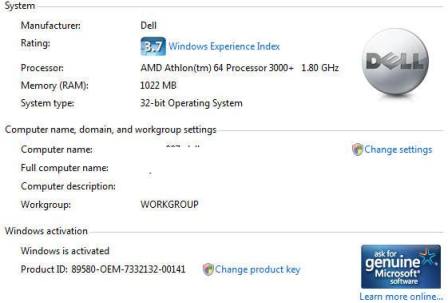 Dell OEM Windows Vista System