Together with the official launch of Office 2010, Office Mobile 2010, the business productivity suite for Windows Mobile Phone device has also been brought out of beta into RTM milestone and officially launched. Office Mobile 2010 will ship with Windows Phone 7, and its legacy version is also available as free update for all Windows Mobile devices running WinMo 6.5.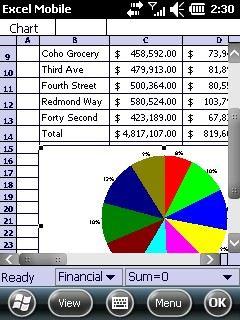 Office Mobile 2010 includes the following applications:
Word Mobile 2010
Excel Mobile 2010
PowerPoint Mobile 2010
OneNote Mobile 2010
SharePoint Workspace Mobile 2010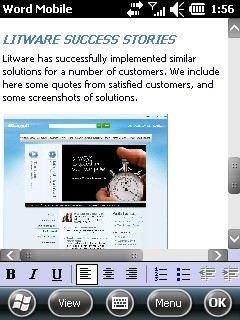 Unfortunately, Outlook Mobile is not including as part of the update on Office Mobile 2010, meaning there is no change to Outlook E-mail, Contacts, Messaging, Calendar, and Tasks apps on Windows Mobile 6.5 does not get any change.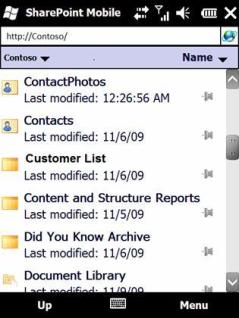 Features of Office Mobile 2010 include:
View and edit your Microsoft Office documents.
Stay connected to work from anywhere with SharePoint Workspace Mobile.
Take notes on your phone with ease – insert voice clips, pictures or make a quick list with OneNote Mobile.
Use PowerPoint Mobile as a Presentation Companion, e.g. broadcast presentation and Bluetooth controller mode.
Intuitive and touch-friendly user interface with finger scrolling support.
Easy document preparation through the new Microsoft Office Backstage view.
Video, text and image editing.
Auto-previewing in Word Mobile.
Sparklines in Excel Mobile for precise trend and data visualization.
Copy and paste between applications support.
Excel data continuous update and sync.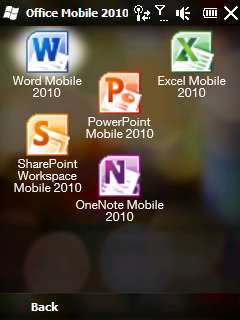 Office Mobile 2010 is available for free download on Windows Marketplace for Mobile with the size of 4975 KB. To download Office Mobile 2010, click on the Marketplace icon on WinMob 6.5 Phone device, then sign in to Marketplace (typically with Windows Live ID). Then search for Office Mobile 2010.
Users can also visit Office Mobile 2010 webpage on marketplace.windowsphone.com to "purchase" the app for free. Anyway, Windows Mobile phone users will still need to go Marketplace app to go to My Apps and select "Ready for Download" to initiate the upgrade of Office Mobile 6.1 to Office Mobile 2010.