Good news for Guardian readers! Guardian News & Media has launched its first official Guardian App (built by 2ergo) for Apple's iPhone and iPod touch. It's the unique news application that allows iPhone/iPod touch owners to access news, comment, features, photo galleries as well as audio from guardian.co.uk with a range of features.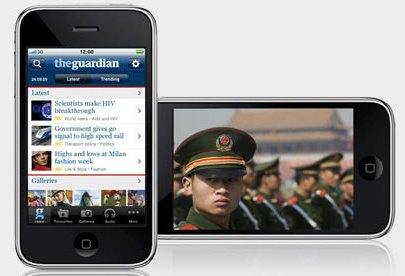 "There is no other news app like it on the App Store and the pre-launch feedback has been unbelievably positive," said Emily Bell, Director of Digital Content at Guardian News & Media. "Users can personalise their homepage to get quicker access to the content most relevant to them, browse content offline, effortlessly flip through our stunning photo galleries and access every contributor; from Charlie Brooker to Polly Toynbee. I'm very keen to hear what people think of it."
Features of Guardian's iPhone application:
World's best topic-based news search engine gives an unrivalled news search facility to let users stay in touch with the latest stories, galleries and audio from the UK's top newspaper website
Beautiful, easy-to-use interface developed to offer an ease and depth of use unique among news apps
Superb picture galleries allow users to flip through all the latest images – from news and sport to fashion and wildlife
Ability to customise the homepage and flag up top contributors for even quicker access to their latest articles
Comprehensive offline browsing mode with an ability to save articles and read them later
Access the most popular Guardian articles at any given time, thanks to 'trending' feature
Access to guardian.co.uk's award-winning audio and podcasts
"We've worked hard to create an app that offers our growing digital audience a wonderful new way to reach and interact with the Guardian on their iPhone and iPod touch, and we're proud to introduce an important new addition to our digital portfolio," commented Jonathon Moore, Mobile Product Manager of Guardian News & Media. "Key themes in the development were speed, customisation, a great design and ease of navigation, and we believe we've created the world's best content-based experience, in your pocket, wherever you are."
Guardian App for iPhone and iPod touch is now available for download through the App Store at £2.39.
Watch the demo video of Guardian App for iPhone below!