Wanna measure your smile? Omron has recently released its new Smile Measurement Software, an interesting and innovative software that able to automatically detect and identify faces of 1 or more people in digital images and then assign each smile factor on a scale of 0 to 100%, as what you see in the photo. With 3D face mapping technology, this software can ensure accurate smile measurement even you're not looking to the camera.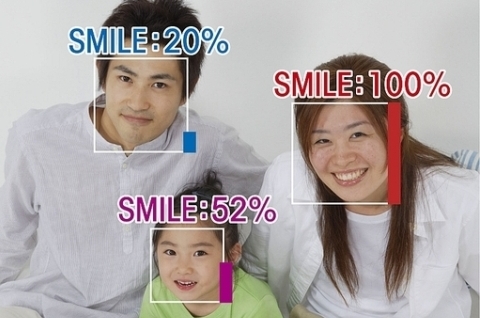 This cool and fantastic Smile Measurement Software is built from Omron's previous face recognition technology, OKAO Vision. OKAO Vision Smile Measurement Technology can analyze multiple faces simultaneously as long as they are at least 60 pixels wide and facing the camera (tilted less than 30 degrees to either side and less than 15 degrees up or down). Best of all, the software does not require faces to be registered beforehand. OKAO Vision, which Omron says is more than 90% accurate, was developed by studying the facial expressions of 15,000 individuals ranging from infants to the elderly, from a variety of countries.

Omron plans to release the new OKAO Vision system later this year, with possibility of technology that can read faces for anger and sadness in future. The Smile Measurement Software seems perfect for people who wanna practice and learn to have a wonderful smile.