Olympus has added a mid-range DSLR featuring a 12MP Live MOS sensor and 2.7″ tilt and swivel LCD. It also incorporates Live View with Contrast AF, Image Stabilization, 5fps continuous shooting and shutter speeds of up to 1/8000th sec.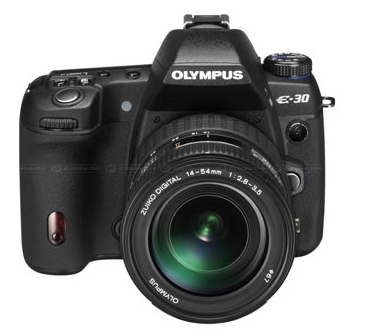 Olympus says that its Digital Leveler gives tremendous benefit for architectural photographers who must ensure that images they take of buildings are as centered and true as the walls of the buildings themselves.
The E-30 offers two systems to quickly focus and capture the image, including a Fast Autofocus with AF Live View and Phase Detection AF. The E-30 provides nine aspect ratios including the standard 4:3, as well as 16:9 for impressive, cinematic-style images, and 6:6, which is available with medium format cameras, plus 3:2, 5:4, 7:6, 6:5, 7:5 and 3:4.
As with all Olympus E-System DSLRs, the E-30 offers Face Detection that recognizes up to eight faces; Shadow Adjustment Technology controls highlights and shadow exposure automatically; Perfect Shot Preview shows how various settings will enhance the image before actually capturing it; a wireless flash system provides control for multiple wireless flashes (FL50R or FL36R) without needing an external commander unit; a large optical viewfinder offers 98 percent field of view and 1.02x magnification.
The Olympus E-30 is available in the US for $1,299. The ZUIKO DIGITAL 14-54mm f2.8-3.5 II lens is available for $599.